Type of Band: Celtic

Number of Musicians: 2 -5

Instruments: Fiddle, guitar, hammer dulcimer, bodhran, wooden flute, tin whistle, vocals

Music Styles Performed: Dance music and songs of Ireland

Performance Attire: Event-appropriate

Other Comments: Aisling (pronounced "Osh-ling") performs traditional Irish folk music. This fun and talented band can perform as a 2, 3, 4 or 5-piece group. They play the dance music of Ireland—jigs, reels, polkas, hornpipes, slipjigs, marches and set dances. They also present some of the most-loved Irish tunes and a few rarer Irish songs as well. Selected traditional American songs are also available. Aisling has appeared at the Dublin Irish Festival, the Columbus Arts Festival, and many Irish pubs, bookstores, libraries and other public venues. They are also a popular choice for weddings and parties.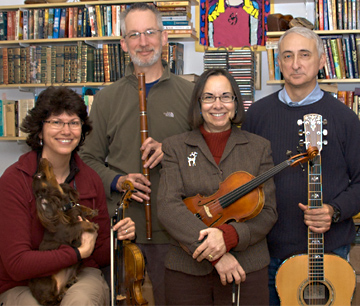 Information about each of the performers displayed and described, was obtained directly from each performer, and is therefore believed to be accurate.