Type of Band: Folk

Number of Musicians: 3

Instruments: Guitars, violin, bass

Music Styles Performed: Gypsy, jazz, world folk

Performance Attire: Event-appropriate

Other Comments: The collaboration of 12-string guitarist Neil Jacobs, Ukranian violinist Arkadiy Gips, and bassist John Douglas, is truly an intriguing musical combination. Together they blend gypsy, jazz and world folk into exciting new American music. Neil Jacobs is recognized as both composer and performer across Europe and the U.S. Arkadiy Gips is a world-class violinist, recently emigrated from the Ukraine, he was trained at the Conservatory of Music in Kiev. John Douglas draws from his extensive background in blues, rock and jazz to form the rhythmic backbone of the group.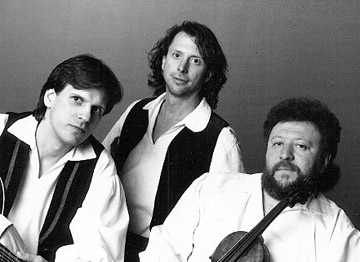 Information about each of the performers displayed and described, was obtained directly from each performer, and is therefore believed to be accurate.