Type of Band: Swing

Number of Musicians: 7

Instruments: Vocals, guitar, harmonica, trombone, saxophone, keyboards, bass & drums

Music Styles Performed: 1950s-era swing, jump blues, and Chicago-style blues
Performance Attire: Suits & ties

Other Comments: This popular jump swing band has a unique sound that gets their audience excited, involved and—most of all—dancing! They have opened for such well known acts as Big Bad Voodoo Daddy, Robert Cray, The Beach Boys and many other stars.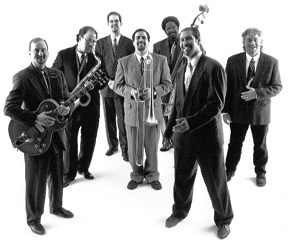 Information about each of the performers displayed and described, was obtained directly from each performer, and is therefore believed to be accurate.