Type of Band: Jazz Variety

Number of Musicians: 3

Instruments: Female Vocals, Guitar, Flute, Saxophones

Music Styles Performed: Jazz, Blues,
R & B, Funk

Performance Attire: Event-appropriate

Other Comments: The instrumental musicians of this dynamic trio bring years of experience and lots of talent to this band, and vocalist Katherine Kimbrough's unique contralto style of singing is just loaded with attitude and energy. The group is available for club dates, weddings, corporate parties, banquets, awards ceremonies, grand openings and other special events.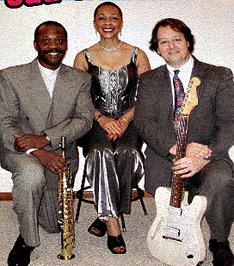 Information about each of the performers displayed and described, was obtained directly from each performer, and is therefore believed to be accurate.