Type of Band: Celtic

Number of Musicians: 2

Instruments: Fiddle, voice/guitar

Music Styles Performed: Celtic jigs and reels

Performance Attire: Event-appropriate

Other Comments: This personable and outgoing traditional Irish band performs high energy songs and dance tunes on fiddle, voice and guitar. Their sound is traditional and fun: jigs and reels are the get-down-and-party music of the 1700s! Of course, they are perfectly happy to bring the energy up or down, depending on the requirements of the occasion. The duo's tremendous energy and presence on stage brings audiences to their feet, and their stories and humor welcome and enthrall listeners. For extra interactive fun, a contra dance instructor is also available to work in coordination with the band, to teach and lead dances.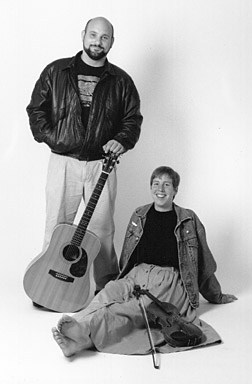 Information about each of the performers displayed and described, was obtained directly from each performer, and is therefore believed to be accurate.