Type of Band: Jump Swing

Number of Musicians: 7

Instruments: Male vocalist, saxophones, guitar, piano, bass, drums

Music Styles Performed: Swing, shuffle, backbeat, rhumba, rhthym & blues, ballads

Performance Attire: Matching ensembles

Other Comments: This band is a well-groomed, well-rehearsed group that presents contemporary swing music with style, exuberance, and musicality. Their song list covers a broad range of styles within the jump blues genre. The Dukes of Wail were recently voted "Best Big Band/Swing Act" in Cleveland.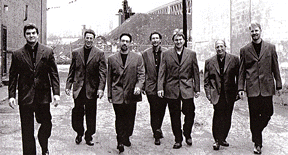 Information about each of the performers displayed and described, was obtained directly from each performer, and is therefore believed to be accurate.