Type of Band: Swing

Number of Musicians: 6

Instruments: Vocals, saxophones, trumpet, trombone, guitar, bass, drums

Music Styles Performed: Swing, jump blues

Performance Attire: Event-appropriate

Other Comments: This band is a jumpin', jivin', swing band that has been entertaining people since 1991. Their standard repertoire includes music of Benny Goodman, Louis Jordan, Duke Ellington, Patsy Cline, and Others. They also perform swing originals.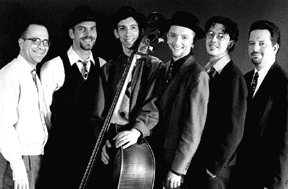 Information about each of the performers displayed and described, was obtained directly from each performer, and is therefore believed to be accurate.