The Rick Brunetto
Big Band
Type of Band: Big Band Swing

Number of Musicians: 17

Instruments: Female vocalist, 5 saxophones, 4 trombones, 4 trumpets, piano, bass & drums

Music Styles Performed: Big band swing

Performance Attire: Black tuxedo/black tie

Other Comments: This well-known band specializes in swing music and big band dance music, including music of Frank Sinatra, Glenn Miller, the Dorsey Brothers, Woody Herman, Nelson Riddle, and many more. If desired, they can also mix in some more contemporary dance music, and Broadway show tunes.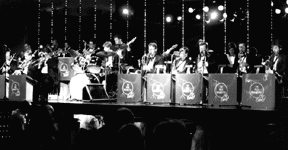 Information about each of the performers displayed and described, was obtained directly from each performer, and is therefore believed to be accurate.