Type of Band: Middle Eastern

Number of Musicians: 5 or 8

Instruments: Violin, viola, double bass, riqq, melodium, clarinet, dumbek, duff, darbuka, percussion, kanoon and oud

Music Styles Performed: Traditional middle Eastern/Mediterranean music

Performance Attire: Event-appropriate

Other Comments: This Indiana band brings the joy of music and celebration to every performance. With their exotic and sometimes unusual instruments these talented musicians play hauntingly beautiful songs and electrifying ethnic dance music.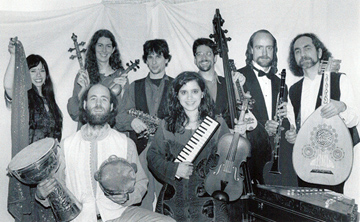 Information about each of the performers displayed and described, was obtained directly from each performer, and is therefore believed to be accurate.