Type of Band: Variety Cover Band

Number of Musicians: 5

Instruments: Female Lead Vocals, Guitar, Keyboard, Bass Drums & Male Vocals

Music Styles Performed: 70s Funk, Soul, Classic Rock, Rhythm & Blues

Performance Attire: Event-appropriate

Other Comments: Founding members Tom and Victoria Bordner have been performing together for over ten years. In Soul Kitch'n, they have assembled a group of talented musicians dedicated to communicating the love of their instruments. Their only objective is to enjoy themselves by playing the music they love—and it shows! Their solid rhythms, inspired solos and stunning vocals are unique.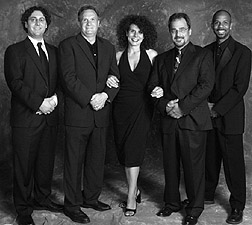 Information about each of the performers displayed and described, was obtained directly from each performer, and is therefore believed to be accurate.