Type of Band: Variety

Number of Musicians: 7

Instruments: Male vocals, guitars, keyboard, bass, drums, trumpet/flugelhorn, trombone, saxophones/woodwinds

Music Styles Performed: Variety

Performance Attire: Tuxedo

Other Comments: Street Players is known throughout the midwest for its energy, versatility, and professionalism. This group entertains audiences of all ages, specializing in classic rock & roll from the 1950s through the '90s, including the music of Chicago, The Temptations, The Beatles, Elton John, The Four Tops, and many more.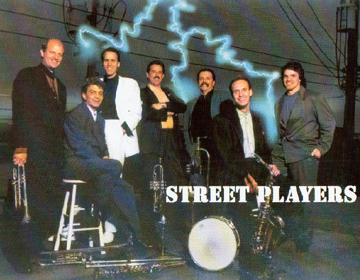 Information about each of the performers displayed and described, was obtained directly from each performer, and is therefore believed to be accurate.