Type of Band: Steel Drum Band

Number of Musicians: 3 or 4

Instruments: Steel drums, guitar, vocals, percussion

Music Styles Performed: Calypso, Soca, Reggae, Island Jazz

Performance Attire: Event-appropriate

Other Comments: The Tropics Island Band has been playing exciting Island music for special events throughout Ohio since 1992, providing the festive atmosphere of a beach party, indoors or outdoors. This talented and popular group has opened for Jimmy Buffet on a number of his Midwest performances, and their repertoire includes many of his songs, as well as the music of Bob Marley, Harry Belafonte, and other favorite artists.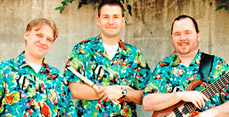 Information about each of the performers displayed and described, was obtained directly from each performer, and is therefore believed to be accurate.